Local Movers in Greater Tacoma and Seattle
Planning a local move in Greater Tacoma or Seattle? We make moving around Tacoma and Seattle easy, simple and affordable. Moving from Gig Harbor to Lakewood? Moving from Tacoma to Seattle? Mountain Moving and Storage has a professional staff with a personal touch. That's because we're a family-owned, Greater Tacoma-based local mover. Our owner is on premises. Our staff are knowledgeable and sensitive to this special, and often stressful, time in your life.
Local Moving Services
So, take the first step toward getting your local move around Greater Tacoma or Seattle underway with a free in-home quote. You'll be impressed with our written quote that you can rely on in budgeting your move. You will move with confidence when you hire Mountain Moving and Storage. Just take a look around this website and learn more about us and how we can help you learn more about moving, and simplify your move.
Local Moving Benefits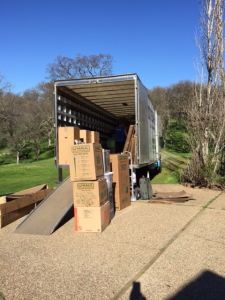 Your move is important to us and we offer you these convenient services to win your business:
Competitive Pricing

When you move locally with Mountain Moving and Storage, pricing is based on an hourly rate and the number of moving staff required to complete the work.

Same Day Service

When you move locally around Tacoma and Seattle with Mountain Moving and Storage, you have the convenience of moving from your current home into your new home in the same day.

Packing

Many customers prefer to have their belongings professionally packed to avoid the risk of damage. Mountain Moving and Storage can customize a packing plan that is right for you.

Supplies and Debris Removal

Your Mountain Moving and Storage representative can provide moving supplies, including boxes, packing paper, bubble wrap, tape and more. Stevens Worldwide Van Lines also can arrange for the removal of boxes and packing supplies from your destination home.

Storage Options

Mountain Moving and Storage has indoor, secured storage warehouses and is able to accommodate your short-term and long-term household storage needs. Whether you need to store some items for a short time for "staging" your home for open houses and real estate walk-throughs, or if you need to temporarily store some items until your new home is completed, Mountain Moving and Storage has several storage options for you.