Moving Seniors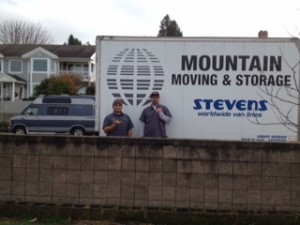 Are you a senior looking for a professional, reliable, and trustworthy company to take care of your unique moving needs in the Greater Tacoma or Seattle area? With nearly 20 years of experience, Mountain Moving & Storage offers personalized moving plans and efficient, time-tested methods for moving all of your items as safely and cost-effectively as possible.
As a family-owned and operated business, we take extra care to assist senior citizens and their family members with the particular challenges that come with moving at this time in your life. Whether your move is local or out of state, Mountain Moving & Storage will take the extra step to make sure everything runs smoothly.
Senior Citizen Moving Services
Our expert team of movers go to great lengths to ensure your move happens on time, while taking exceptional precautions to protect breakable and delicate items. We take care of our customers' possessions as if they were our own, so you never have to worry about your fragile furniture or family heirlooms.
Downsizing
We find many of our senior customers are looking to downsize when they move. While planning your move, it is likely that you will find some items that you no longer need or want. Whether it's a child's bedroom set, or a second couch in the basement, our senior moving managers will work with you to organize what items are coming with you and what you are leaving behind. This means spending less time and energy trying to organize everything yourself, making for a more stress-free and easy move.
Decluttering
Our declutter package is one reason why Mountain Moving & Storage is a preferred moving company for seniors. This unique package aims to help get your items organized and get rid of items that are no longer needed. To help seniors declutter when moving, we offer several options:
Recycling – During your move, you will certainly find plenty of things that can be recycled, such as older electronics, appliances, or furniture. Simply box up any items that you wish to be recycled and our expert moving crews will take care of the rest!
Donation – When moving, you will always find items that can be donated. We highly recommend donating any unwanted items such as clothes, books, toys, or furniture. It's a great way to give back and it makes for an easier and faster move.
Consignment – Aside from items to recycle or donate, you probably have some items to sell. Just let your move manager know what you would like to consign and we will make arrangements with a local shop to take care of your items.
Free, In-Home Estimates
Whether you are planning a move from one home to another, into a retirement community, out of state, or into a family member's home, you can trust Mountain Moving & Storage to provide you with the quality service you deserve and expect. So the next time you're planning a move in the Greater Tacoma or Seattle area, remember that Mountain Moving & Storage is a preferred moving company for seniors. If you have any questions about our senior moving services, please feel free to give us a call, or fill out our online form for a free in-home estimate.