Tacoma and Seattle Piano Movers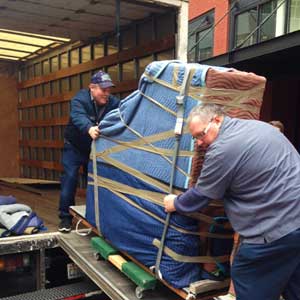 Are you planning a move to or from the Tacoma or Seattle area? Do you have an upright or baby grand piano to move? Mountain Moving & Storage is a local mover that has been servicing the Tacoma, Washington area for nearly 20 years. We specialize in piano moves, and we have the experience you're looking for to get your piano to your new home on schedule and without damage. Being a professional piano moving company means we are very familiar with moving all styles of pianos. We have years of experience with organs, grand pianos, and upright pianos, plus we come with an affordable price. Our professional piano movers can provide a quality quote for your piano relocation.
Our Piano Moving Services
Piano moving is a tricky process, especially with heavier instruments that can weigh from 500-800 lbs. Mountain Moving & Storage has the knowledge and experience to assist you with this kind of specialty move. Mountain's expert staff of piano movers are well versed in the proper ways to pack, load and unload your instrument. Pianos come in different weights, shapes and sizes, but nothing is too big or heavy for our staff. At Mountain Moving & Storage, we understand how a piano can hold a great amount of intrinsic value, so we take extra care when handling them for you. Our staff of piano movers have developed their piano moving techniques from years on the job, and are more than happy to answer any questions you may have about the piano moving process.
Talk to Our Experts About Your Piano Move
Mountain Moving & Storage is dedicated to providing you with top-quality service when it comes to moving and storing your piano in the Tacoma, Washington area. We also can provide clean and secure short-term and long-term storage space if you need somewhere to put your instrument for the time being. Whatever the case may be, let Mountain Moving & Storage be your piano movers in Tacoma. If you have any questions about our moving services in the Tacoma or Seattle area, call us at (253) 581-2414 or fill out our online estimate form for a free quote.