Moving Company Careers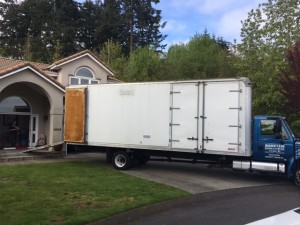 Since 1996, Mountain Moving and Storage has been a preferred name for moving and storage services in the Greater Tacoma and Seattle regions. We are currently seeking qualified, professional candidates who share our company values of providing our customers with the sterling service they deserve. If you possess a strong work ethic and enjoy providing high-quality customer service, and are looking to utilize those qualities while working with a team, we encourage you to apply to our available positions by e-mailing your resume to patrick@mountainmoving.com.
Positions Available
Responsibilities include:
Transport household items and commercial equipment from their origin to the destination.
Manually lifting heavy items.
Properly wrap equipment and furniture.
Box-pack items, including breakables and valuables.
Disassemble and reassemble furniture and equipment.
Check paperwork to ensure it is completed.
Check truck's oil, fluids, lights, blinkers, warming up vehicle and completing inspection reports.
Ensure that proper moving equipment and load is on truck prior to move.
Be polite and courteous with the customer.
Explain and review paperwork with customer.
Answer any concerns the customer may have.
Call dispatch if unsure of any questions.
Work well with other members of your team.
Experience in moving and storage a plus.
CDL required for Interstate drivers.
Must have clean background record and valid driver's license.
Responsibilities include:
Assist drivers in preparing truck in morning.
Brace truck load to prevent shifting.
Tie loads down in truck.
Ensure proper gear is loaded onto truck.
Be polite and courteous with the customer.
Assist driver with moving heavy items, packing and loading truck.
Ask driver for instructions if unsure on responsibilities.
Pick up loose debris from job site.
Put doors on crates or warehouse boxes.
Load gear, tie down pad piles, straighten out truck, and prepare truck to leave at the end of the job.
Put cardboard away at shop.
Pick up and throw away banding and trash at shop.
Put away any extra gear on truck in the warehouse.
Assist driver when they are backing up their truck.
Experience in moving and storage a plus.
Must have clean background record.
If you feel you can fulfill the responsibilities for either positions, please send an e-mail to patrick@mountainmoving.com with your attached resume.