Out of everyone involved, children may have the hardest time adjusting to a move.
Even though August is one of the hottest months of the year and also in the midst of the busiest moving season, it's also National Family Fun Month! Though you may have a million thoughts running through your mind, it's incredibly important to keep good feelings coming, whether at home or on the go. There's still plenty of time to enjoy the lovely month of August with your loved ones. It is especially vital to keep your young ones involved as they may have the hardest time understanding everything that is happening around them. With that in mind, we would like to provide you with four suggestions to help you and your family enjoy your move.
Stress of Moving on a Marriage and the Children
Out of everyone involved, children may have the hardest time adjusting to a move. For one reason or another, they are typically left out of the moving experience. However, not only can children lighten up the mood during a move, they can also entertain themselves, given the right resources. If you're still in the packing stage of your move, let your children decorate some of your moving boxes with markers and stickers. Not only will they love "helping" you pack, you'll be involving them, most importantly. Then consider printing off coloring and activity pages or purchasing activities and small toys to keep your children happily entertained.
Tips for How to Cope With Moving
No matter the situation, music always soothes the soul. Depending on your goal, music can provide the adrenaline rush needed to wake you up or act as an energy boost, a comical relief when times are stressful, or just to keep the good times rolling. Take the time to generate a moving playlist, or several, that include everyone's favorite songs. Include songs that pump you up, songs that your children love, and songs that everybody can sing along to! Music can be a great source of background happiness! Bonus points go to playlists that involve moving themes!
How to Cope with Moving Away from Friends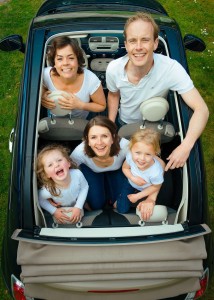 Whether you're moving down the street or across the country, there are certainly going to be some parting moments for all those close to you. With that in mind, consider throwing a last family and friends fun night! Since your home and your belongings will be packed up, create an event at your favorite restaurant or vote to get together at the group's favorite activity. Don't only invite those closest to you, invite all those who have left a positive experience on you during your time in your old home: co-workers, your children's friends, and even neighborhood and community acquaintances. While smiles and tears expected, this is the time to reminisce and to make plans for the future with all those you care for.
Understanding Why Moving Is So Emotional
While the packing and moving experience in itself may not be a thrill, continuing the positive vibes during the move is essential. If you're traveling by car, near or far, and have the ability to stop, plan out a small family vacation or even a few special activities along the way to break up the monotony of driving. Rest assured, everyone will enjoy a break, let alone a vacation! Even if you have a limited amount of time, pack or pick up some carry-out from a well-known restaurant and stop for a special meal or for a picnic. There are always numerous ways to enjoy the longest haul of the trip.