Packers from Mountain Moving brush up on their skills just in time for the summer moving season. From brushing up on the proper safety measures for moving a grand piano to reminders on what items cannot be transported in a moving van, Mountain Moving & Storage packers recently took an intense refresher course. The staff from Mountain Moving were among movers from across the country who attended a two-day "Packing Boot Camp" hosted by Stevens Worldwide Van Lines.
Professional Packers to Help You Pack Your House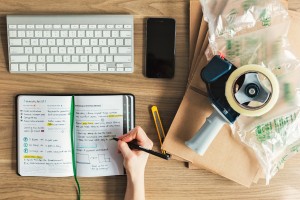 During the training, packers from Mountain Moving not only reviewed the best, most secure and safest ways to pack and transport household items, they also shared best practices in the industry. During the hands-on portions of the training, each participant had to complete packing "stations" staffed and instructed by experts from both Stevens' corporate headquarters and some of its premier agents. The stations included items ranging from what types of items are packed in which size boxes, how to pack mirrors and art, how to pack delicate items, padding and protective wrapping furniture, packing flat screen televisions, preparing grandfather clocks for moving, packing kitchenware and food, and packing and labeling cartons for international moving. The "boot camp" was held just before the beginning of the busy summer moving season. Every year, nearly 43 million Americans move from one home to another. Traditionally, as many as 60 percent of those moves take place between mid-May and mid-September.
Packing and Unpacking Services
Mountain Moving reminds customers that when selecting a moving company, be sure to carefully check that the company is legitimate. The American Moving & Storage Association, the trade association for the moving and storage industry, notes that one way to differentiate quality movers from potentially unscrupulous ones is to look for the PROMOVER symbol and designation. It is estimated that thousands of families and individuals become victims every year to movers who don't live up to the promises they make to customers. The methods of those disreputable movers range from dramatically changed prices during the course of a move to furniture and belongings being "held hostage" until the customer pays a "delivery fee." PROMOVER is a consumer protection and certification program that assures customers that companies have passed a background check of operations and have agreed to abide by a set of honorable business practices and the American Moving & Storage Association's Code of Ethics. Those approved as PROMOVERS will display a capital block "M" PROMOVER logo. Contact a professional mover who has a track record of excellence and a reliable team of qualified movers.