A Moving Checklist to Help Organize Your Pack and Move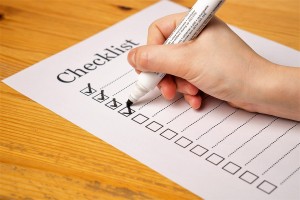 When you plan to move, there are many individual steps that make up the entire process, and at times, it can be difficult to keep track of all of these steps. Having a moving checklist to direct you can help make your efforts more organized and you will be less likely to miss something. Having a step by step list to go by will let you know what you should be doing at what time to prepare for your upcoming moving day. A moving checklist is great for helping you keep on track, get ahead of schedule, and also let you know if you may be falling behind. This checklist is meant to give you a road map of the months prior to your moving day and alleviate some of the stress of coordinating the separate tasks involved with packing and moving. Enlisting the help of a professional mover may be just what you need. If you feel overwhelmed and know you cannot juggle packing and moving while you orchestrate all the other details and logistics of your move, hire a moving company to do the job.
8 Weeks Before Moving Day
Decide if you will require a moving company and if so contact them as early as possible. Lining up you movers is important to do early so you don't run the risk of not being able to hire the one you want.
Obtain moving quotes from a healthy amount of moving companies so you find a reputable company at a good price.
If necessary, take inventory of your home's items and determine what sized truck you will require for your move.
Pick a moving day and mark it on your calendar.
Call your friends and family and see who will be willing to help you pack or move. Use Facebook and other social media to reach out to people as well as giving them a call.
Craft a moving budget and map out your expenses for the next couple of months.
Find out what expenses can be written off come tax time. You may be able to write off more than you think if you are relocating for employment.
6 Weeks Before Moving Day
Be frugal with your items if you anticipate not having enough room in your new place. Think long and hard about parting ways with items you would rather not pack and move.
Start stock piling packing materials like newspapers and boxes so you can potentially avoid paying extra for these needed supplies.
Make one last check-up appointment with your doctor. If you are changing physicians, make sure your medical records are transferred to your new doctor's office. This will also apply to your veterinarian.
School records must be changed to the new school district if necessary.
4 Weeks Before Moving Day
Any packing materials you haven't stock piled already, you may want to consider buying now. Account for shipping time if you are buying online. You need to have your packing supplies to begin packing in a uniform way. Buy extra tape so you don't run out and don't skimp by buying the cheapest available tape.
Have your vehicles serviced one last time by your local mechanic if you are moving away from their service area.
The USPS will have to be notified of your upcoming change of address.
Keep track of what you are packing by keeping a log of your packed items.
Plan to hire a babysitter for your local move if necessary. A reliable baby sitter can save you time and effort during this busy day.
Pack all appliances and kitchen utensils that aren't necessary for the time you have left in your old place.
2-3 Weeks Before Moving Day
Plan with utility companies to have your water, electric and gas shut off when you leave if necessary.
Notify your television service provider, home security, newspaper, internet, landscaper, and any other professional service that you will be changing your address. If you are moving locally and wish to keep them, let them know your new address.
Notify your auto insurance company of your upcoming change of address and plan for what company you will go with in your new location. Your new state may have different laws regarding auto insurance you'll want to be aware of when you register and insure your vehicle in that state.
Preorder new checks that have your new address on them.
1 Week Before Your Moving Day
Buying too many groceries isn't a good idea when you are about to move. Try to use all of the food items in your pantry instead of buying food you will have to pack and move.
If you are in an apartment, do a deep clean of your old place from ceiling to floor and try to get rid of all scuffs, stains, and nail holes before you move.
Schedule the walkthrough with your landlord and make sure you do your absolute best to restore the space to avoid any penalties and charges.
Empty the gas from your lawn mower and weed whip as well as any other applicable equipment.
If you bank somewhere that isn't found in your new location, make arrangements to have your account transferred.
The Day Before Moving Day
Clean out your refrigerator and freezer and give it time to defrost. You may have to use a towel to absorb any melting ice for this step. This may take around 24 hours to complete.
Get a toiletry bag ready for your moving day, and bring extra clothes and towels. You will likely want to use these items right away and not want to unpack the entire box they would be in.
Get to bed early if you can because you will need your strength for moving day tomorrow.
Back up any vital computer documents and files.
Dispose of flammable liquids and items you can't move with you.
Moving Day is Finally Here
Start your moving day off with a proper breakfast.
Do a final walk-through of your old place and make sure nothing is forgotten.
Adjust the thermostat and lock windows and doors as you leave.
Pack healthy snacks for your drive.
A box cutter will help your unpacking process, so keep one on hand.