Moving to Seattle
Moving to a city home to Amazon offers a huge array of benefits. Amazon is one of the largest notable companies in the United States, ranking 12th on the coveted list of the Fortune 500 companies. Living in this booming city offers a large variety of apartment-style homes, higher pay wages accompanied by the higher cost of living. Along with the huge array of "in-style" lifestyle accommodations, such as an endless number of coffee shops and hot yoga studios, the ever-growing group of millennials is flocking to the city.
Seattle's Arts and Culture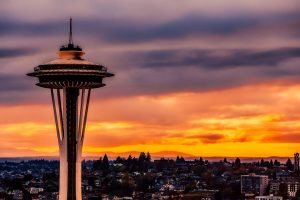 Before it was home to Amazon, Seattle was originally home to musical greats such as Nirvana, Jimi Hendrix and Pearl Jam. There are over 140 theater companies putting on top of line shows and offering year around entertainment. As this city continues to blossom, so does its distinct arts scene. Seattle's distinct ability to captivate its visitors and newcomers lies within its arts, culture and food. Downtown is filled with exquisite restaurants all competing for your pocket change, and the food options range from bar worthy favorites to top of the line eateries supervised by 5-star chefs. If you're a foodie in a need of a good adventure, or just looking for a true taste of the town, join one of Seattle's many food and drink tours for a guided excursion around the city. For the occasional night out, you have the options of visiting exciting wineries and breweries. Additionally, for a company like Amazon to be in a city with such a rich history of arts and culture is an added incentive for Amazon's employment seekers.
The Amazon Effect
When moving to Seattle, you'll be surprised at how many of the 40,000 Amazon employees live in the same zip code as the company–A whopping 15%. Another 20% live within walking distance. With numbers like that, I'm sure you've probably considered the possibility of outrageous morning traffic. In the years since Amazon's relocation decision, the morning commute for most people has gotten a tad bit longer, and with such a huge population growth, deservingly so. But, who are the people motivating this huge economic growth? Aside from becoming home to the largest growing city, Seattle has also become home to the largest growing group of millennials in the United States, with a large part of the population ages ranging for 25-34. The company attracts young and intelligent groups of business professionals to Seattle.
Seattle Movers
If you're plan on becoming a new resident of the Seattle area and joining its ever-booming population, make sure you find a mover you can trust. A great mover can help guide you through your relocation process, and will make sure that your Seattle area move goes smoothly, quickly and with no damage to your valuables. Mountain Moving is here to help you with your moving experience to the great city of Seattle and its surrounding areas. Call the Seattle moving company that has great reviews, and A+ rating on BBB, and a free quote form—Mountain Moving & Storage.