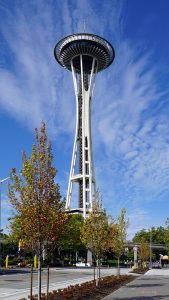 Have you ever dreamed of moving to Seattle, Washington? The booming tech industry, the Seattle Space Needle, along with the miles and miles of forests are reason enough for anyone to want to move to Seattle. There are some simple things you can do to get started on your journey to your new Seattle home. Here's a detailed "Moving To Seattle Guide" that you can print out and refer back to during your Seattle relocation!
Moving to Seattle Guide
Seattle, WA is one of those areas that experiences the changing weather during all four seasons. While the summers are sunny and dry, the winters are cool, so it will be smart to bring appropriate dress for Seattle weather. Seattle is known to be rainy almost year-round, but the rain usually only comes as a drizzle or a mist. Either way, when moving to Seattle you'll want to make sure you bring parkas, raincoats, rainboots and other suitable clothing for the Seattle weather. Although there's little snow in the winter, you should still bring a winter jacket and sweaters for those chilly nights. Also be sure to pack shorts and tanks for the summer.
What Is Life In Seattle Like?
Seattle is a rapidly growing city, and because big-name companies such as Amazon are headquartered there, it will probably continue to increase in population. With so much appeal to the city, it's easy to see why so many people are moving to Seattle.
One item that's popular in Seattle is coffee! You can get used to visiting all the unique coffee shops the city has to offer. If you prefer nature, you'll be enamored with the stretches of deep green forests you'll be surrounded by. While the natural beauty of Seattle is plentiful, the city life is also memorable. There are plenty of places to shop and the nightlife is energetic. Well-known Seattle events include the Seattle International Film Festival, Seattle to Portland Bicycle Classic, Penny Arcade Expo (PAX), Seafair events and so much more. Also, get used to bringing your dogs with you everywhere, as there are numerous dog-friendly restaurants around town. With so many attractions to visit and much to do after moving to Seattle, you'll want to make sure you plan an itinerary for the many explorations you'll have. Plus, it'll be easy to adjust to having no state income tax!
Tips For Moving to Seattle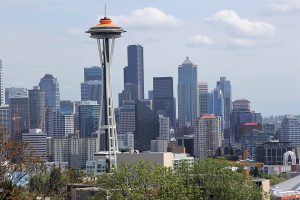 First things first, make sure you have enough money to live in Seattle before moving there. The cost of living can get pricey, so it's important to research prices on homes and save up more than enough money than you think is needed.
Bring your bike! After moving to Seattle, you'll probably notice that the city is full of biking trails and lanes, and you won't want to miss out on all the cycling activities.
Pack your hiking boots. Seattle parks and mountains boast vivid beauty and a surreal surroundings, and you'll want to explore as much of it as you can. Not to mention, Seattle was built on hills, so walking involves a lot of uphill travel.
Hire Seattle movers to help with your Seattle relocation so you don't have to worry about any heavy lifting and you can enjoy your move.
Seattle, WA is a great place to start a career and it's also ideal for building a family. The schools in Seattle include the grade schools of Seattle Public School District and a number of colleges and universities such as: Seattle University, Seattle Central College, University of Washington and more. The unemployment rate in Seattle is low, so for career-driven individuals, it's an ideal city to move to. The booming tech industry could be a major reason that so many people are finding themselves flocking to Seattle. Whether you're moving to Seattle alone or you're moving with your kin, you'll have so much to look forward to after moving to Seattle, Washington!