Plastic bins look good but cardboard has many benefits
When it's time to organize and pack your belongings for an upcoming move, don't go out and buy a lifetime supply of plastic bins. Though this may be a tempting idea, you are better off using trusty corrugated cardboard boxes to ship your belongings. There are many reasons to stick to the tried and true standby that is the cardboard box. Cardboard boxes can be folded and stored flat when they are not being used. There are situations that are more suited for corrugated cardboard over plastic bins.
You can find cardboard boxes for free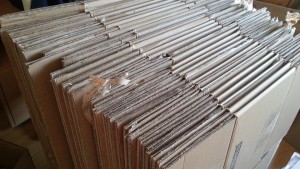 There are many positive aspects of using cardboard boxes instead of plastic bins when it comes time to pack and move all your family's possessions. One advantage of cardboard boxes is they are easily accessible. Free cardboard boxes can be found in many different places, all you need is time to stock pile them. Craigslist.org is a great tool for finding free corrugated boxes. On the site, all you need to do is search for "boxes" under the "free" link inside the "for sale" section. If that doesn't do the trick, you can ask a clerk at your neighborhood grocery store and they will be able to fulfill your empty box needs. Time is your best friend when compiling your boxes as you may not want certain shapes and sizes that any given retailer may be giving away.
Don't stack too much weight on top of a plastic bin
Plastic bins can break if there is too much weight stacked on top of them. Cold weather climates are another factor to consider when you think about plastic bins as the frigid temperatures make some varieties more prone to cracking and breakage. The design of plastic bins can be convenient for some items, but when you consider stacking multiples of them atop each other, the shape lends itself to tipping more than a square cardboard box.
Newspaper, bubble wrap and packing peanuts
Being resourceful is a great skill that will help you leave a smaller, eco-friendlier footprint behind during your relocation. Bunched up newspapers can be a great filler for empty spaces in a box to prevent items from moving around. Bubble wrap and packing peanuts can offer another layer of protection and insulation for your delicate belongings. Some of your most precious items would be best wrapped in bubble wrap to ensure the strongest protection. Taking time to wrap your most fragile belongings properly will go a long way to ensure they are safe. With time, anyone can stockpile newspapers and boxes without having to spend money. Repurposing these items to keep your possessions safe while you move is beneficial and something you'll want to consider doing. Not only does it save you money, but it is also more environmentally friendly. There is no one-size-fits-all solution to transporting your belongings. Having the proper solution when you pack will make your move that much better.