Moving doesn't have to be stressful! Taking the right measures to ease stress on your mind and your wallet can make all of the difference. With these We all love to save some money, and these 8 tips from our Guide to a Stress-Free Move will help you plan ahead and save big money on your next move.
We created this easy and valuable guide to help you save some dough, while not being stressed out! We will break each tip into a section, giving you a complete explanation of how to exactly do the task and how to save the money, and we hope it can save you even more than is expected! Take these tips to your next (or first!) move and download the whole guide below to make sure you have the best, stress-free move possible.
Purge Miscellaneous Items
While you might think you need that old towel in the bottom of your closet, that you haven't used in years, you probably don't. Instead of keeping it and making it take up valuable space, pitch it! As you go through your home and start to pack, you will see that unused items will pile up very quickly. Professional packing services charge you by time and weight, meaning that the heavier the truck, the more they are going to charge you. If you haven't used it in a while, throw it out and start seeing the dollar signs!
One Man's Trash in Another Man's Treasure
Donations are another key to making money. Most items that you are going to throw out, can be donated to your local charity and can help people that are in need! Most donation centers accept anything from clothing, to furniture, to food, so call up your local donation center to see if they will accept what you are looking to give away. To save money with this option, you can write off your donations as deductions on your taxes, saving you some money in the long run!
Your Move Could Be A Tax Write-Off
Most movers in Seattle won't tell you this, but depending on what state you are moving from, your move could be a tax write-off. Some states are desperate for people to move in, and will actually give you a tax break for moving. Next time you talk to your local tax professional, ask them if your move could be a tax deduction!
Garage Sale Time!
No matter where you are from, garage sales are one of the easiest ways to make a little more money. So while you are packing up your belongings, make a pile with everything that you think you could sell. Advertise in your city that you are having a garage sale at your house, put up a couple of tables, and there you go, you are having a garage sale. Then when it is over, the items that you didn't sell, put them in a bag and donate them to your local charity!
Don't Over Purchase
If you're not bringing your furniture from your old home to your new one, don't buy it before you move to your new home, buy it in your new city. Buying more and more items to transfer with you in a moving truck, will only make you pay more traveling costs. It'll take up more space in your moving truck, that you could be using for your personal and miscellaneous items.
Moving for Work
When it comes to moving for work, most of the time your job will pay for some of your moving costs. If this is the case, before accepting the offer to move, ask your boss if they do take on some of the expenses of moving. If they do, that's great, and that's some money that you can hold on to. If they do not, ask them if they recommend any packing services for moving, seeing if you could get a discount through that company.
Boxes and Moving Containers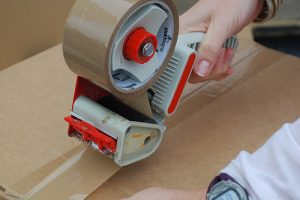 You don't want to spend a lot of money on moving, so don't spend more money on boxes when you can get them for free or very cheap. Before you start your packing, ask the professional packing service companies if they supply boxes. Sometimes they do and sometimes they don't. If they do, that's great, but if they don't, then it's time to start looking. Go to your local universities, local grocery stores, Costco, or any donation center and ask if they have any boxes they are going to throw away. You could also check online and see if any websites are giving them away or are for cheap. It doesn't hurt to ask!
Pick A Cheaper Date/Time
This is one of the easiest ways to save a few bucks while moving. When hiring a professional packing service to move your belongings, ask them their rates on specific dates/times. Sometimes, the rates will be higher if it is a weekend or a holiday, so by moving your move date to a weekday or earlier in the morning, it can lower your costs, saving you some money!
Download Your Guide to a Stree-Free Move!