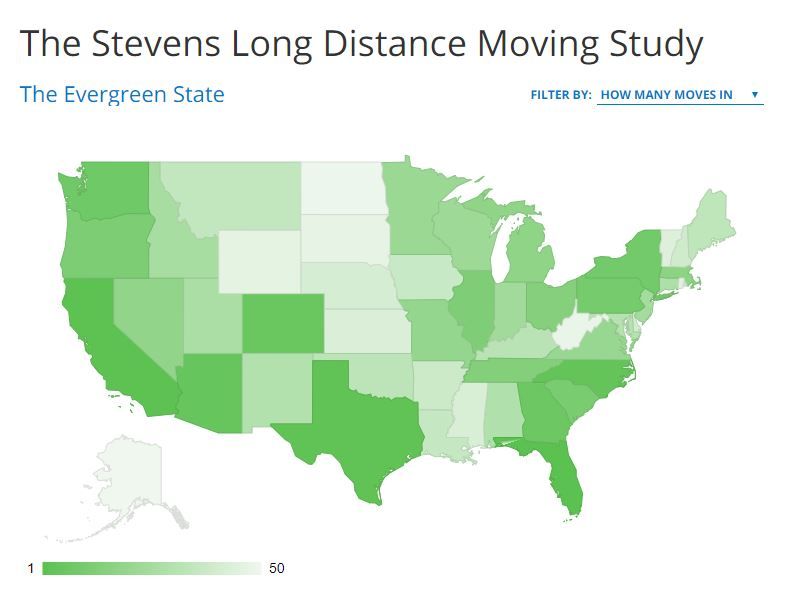 Stevens Long Distance Moving Study
Stevens Worldwide Van Lines recently conducted a study on long distance moving trends throughout the United States. Each year, families and individuals make the choice to move out of state. Stevens moving company wanted to identify information to give you a more in depth look on these types of moves across the country.
With data from the American Moving and Storage Association (AMSA), Stevens had a sample size of over 150,000 out-of-state moves. The purpose was to get a in depth look on long distance moving trends for each state. It identified where people relocated to, the weight of the total amount of items taken with them and the overall distance they traveled.
The information was meant to help people learn about long distance moves and to bring us closer to comparing trends between each state throughout the United States. If you are planning a long distance move from the Tacoma or Seattle, WA area, you can see data relating to how other people have moved to the destination you plan on relocating to.
*This study does not include data recorded from Hawaii.
Long Distance Moving Study Data For Washington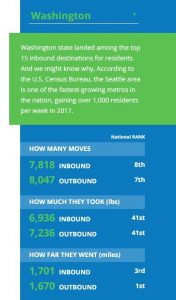 Looking at data from long distance movers in Washington, Stevens has found that Washington is among the top 15 inbound destinations for residents. More specifically, it ranks 8th, right between New York, ranked 9th, and Georgia, ranked 7th. The total amount of people that moved to Washington was 7,818.
However, 8,047 people left Washington ranking the state at 7th for outbound moves. Regarding the distance people traveled, Washington ranked 1st at 1,670 miles traveled away from the original state. Washington ranked the same in regard to the total amount of weight people took with them while moving coming in at 6,936lbs for inbound moves and 7,236lbs for outbound moves. That ranked it 41st out of 49 states.
Moving Long Distance To Washington
So, what does this data mean if you are planning a long distance move to or from Washington? Well from what has been found Washington is becoming a very popular state for people to move to. The Tacoma and Seattle area has been increasing in population.
This increase in interest for moving to these areas could be because of the growing job opportunities that areas like Seattle, Olympia and Tacoma have to offer.
Olympia is the capital of Washington and has a lot to offer. Olympia is situated in at the south end of Pugent Sound surrounding Capitol Lake. It has become a top destination for people to move to. The Olympia National Park could be playing a factor as well, as people who love adventure can see Olympia as the perfect place to have both a solid career while enjoying the natural beauty the state has to offer.
Being the home of the original Amazon headquarters, Seattle has become a commercial and corporate hub for many businesses. As new businesses move in and others relocate it is no surprise to see the amount of people moving to the area. Seattle is full of business opportunities and sightseeing activities. It is already a hot tourist destination thanks to attractions like the Space Needle. Seattle has a lot to offer and that could be contributing to the amount of people deciding to relocate here.
The State of Washington has plenty to offer. With bustling cities, and beautiful state parks and mountain ranges, it is no surprise Washington ranks 8th for the most inbound moves.
The best advice for making a long distance move to or from Washington is to do some research! Find a city throughout the United States that will best suit you and your lifestyle. Plan accordingly and find the best mover that can help with your long distance move to or from Washington. You are going to want a company that offers full service moving and has the resources available to complete your interstate move. There are moving and storage companies available in all states that are partnered with larger van lines, giving them the opportunity to fulfill your cross country moves.
Use resources like the Stevens Worldwide Van Lines long-distance moving study to identify trends and to learn more about other states and long-distance moving data. Knowing this information could help prepare you for your next out of state move.