Whether your move is local, long distance, or international, being prepared and staying organized are some of the most important things you can do as you get ready to move. Most people don't realize how much stuff they have accumulated over the years until they begin packing for a move. Even if you aren't downsizing, it is still a good idea to sort through your things before your move. Decluttering before a move allows you to cut down on costs since you'll have fewer things to pay to be moved. It also gives you the opportunity to make money by selling your unwanted items in a yard sale or online. Taking the time to declutter will end up saving you time throughout your move because you'll be more organized and getting rid of your unwanted things will make moving day much more efficient. Here are some tips to help you declutter before a move.
Start Now!
Packing is the most time consuming and tedious process required during a move. It will take a lot of your time and energy so it's best to start as soon as you can. You should begin decluttering and sorting through your belongings well before you start packing. The more items you give away, the fewer items you must pack, meaning less stress for you. This will speed up your packing and unpacking process on moving day and beyond. Not knowing what to get rid of and what to keep can weigh heavy on a person. If you find something that is damaged beyond repair, it's a good idea to pitch it. Additionally, something that you haven't worn or used in over six months is a good indicator that the item is something that most likely won't be missed, and should be sold or donated.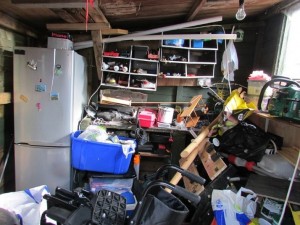 Know Your Options
Once you've taken the time to go through your belongings and have decided what you don't want to keep, make sure you understand the options you have for getting rid of your unwanted things. An easy way to do this is to sort your unwanted items into different piles such as "donate", "sell", and "throw away." Gently used items such as old clothing and household goods can be donated by dropping them off at a local non-profit donation center, shelter, or second-hand store. In some cases, these non-profit organizations offer a free, pick-up service for your donated items if you call ahead. You can also get a tax write-off for your donation. More expensive items such as quality furniture and electronics such as a big-screen TV can usually be sold. To sell your items you can either hold a yard sale or post about them online. This is an easy way to make money off your extra junk. Any remaining items that are broken, damaged, or cannot be used by anyone else should be thrown away.
Be Precise
Decluttering your home or apartment is best done in an organized fashion. Starting small and decluttering slowly will help keep your emotions at bay. Begin with one room, or one closet, or even one dresser and go through your things one by one. This method will keep your residence organized and keep you from feeling too stressed.
Ask For Help
Decluttering can be overwhelming, especially if you try to tackle the job alone. Asking family and friends to help you sort will allow you to finish quicker and can even make the process fun. Play music, set out some yummy snacks and drinks, and have a blast. Once you start decluttering you might even find yourself taking a few trips down memory lane with boxes of family photos, old toys, and more. If your family and friends are unable to help, consider using Mountain Moving and Storage for your decluttering needs. With over 20 years of moving and storage experience, we are the decluttering experts you can trust.