Holiday decorations always put us in the holiday spirit. They stand for an idea that radiates through our hearts, embracing seasonal beauty in our homes and spirits. However, just like the season, these decorations come and go, whether you're relocating to a new home or they just need to be packed away until next year. When you find yourself packing personal belongings and come across these often fragile holiday decorations, we have a few tips to keep your prized family decorations safe and secure. We know how much these decorations mean to you and your family and we want to keep the holiday spirit alive, literally.
Decoration Storage Basics
Just as you purchased them, saving the original boxes for your decorations is always a plus. Not only are these boxes specifically designed for the decorations when you bought them, you already have them. However, if you happened to rid yourself of these original packages, fret not, we have several other alternatives to keep your items just as safe.
Cardboard Boxes – More than likely, a small or medium-sized box in good condition (strong, clean and dry) will always suffice when packing your decorations. If you can find a box with dividers, it would be even better since you can safely store one ornament (or several) in each of these further protected sections. Along these lines, a leftover shoe box will help store smaller items but provide the security you desire.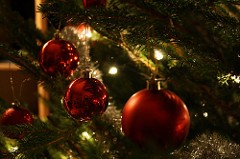 Plastic Bins – When moving, we highly recommend plastic bins. Most are incredibly sturdy, many of which are also transparent. When packing or moving, this small, typically blatant detail allows you to move through your items quickly as you're able to see them in a second. We advise you to pack highly sentimental holiday decorations in these containers as they provide the most protection.
When packing your holiday decorations, you can't go wrong with soft packing paper to wrap individual ornaments, thus preventing accidental damage. We also advise against using newspaper pages as its ink could become affixed to your ornament. Also, don't forget about quality bubble wrap! You will see these indispensable sheets of incredible air protection go faster than you think. Be sure to buy a little bit more than you would expect. Worse case scenario, you buy more than necessary for your decorations, but if you're packing other fragile items, this is the perfect use for this material.
Packing Decorations the Right Way
Your first step, sort your ornaments. Discard or donate any items that are no longer wanted or are damaged beyond repair. Moving allows you the perfect opportunity to clean out your collection. Also, be mindful when packing your decorations which are the most vulnerable to breaking. We recommend wrapping each individual piece in soft packing paper before wrapping them in bubble wrap. By placing the paper around the ornament first, you won't have to worry about bubble wrap sticking to an ornament on a hot day. Lastly, as you fill the storage container with the properly packaged decorations, be sure to fill the last of the container with excess bubble wrap or packing paper. Doing this will guarantee that your items will not move during any portion of the move or pack, therefore, preventing damage.
Safely Moving Decorations
We know your decorations will arrive safely when you keep these decoration packing tips in mind. We understand the cultural and family importance that your holiday decorations play during your holiday season. If you find yourself moving in the future, look at our other posts to discover even more great moving tips. Otherwise, feel free to give us a call to find out how we can help you with your move or pack today!