Storage in Tacoma
Mountain Moving & Storage has solutions for any type of household goods or business storage needs in the Tacoma and Seattle area. Mountain Moving & Storage offers competitive pricing on storage, and we provide both short-term and long-term storage solutions. We are highly-trained in moving valuable items such as pianos, and we will transfer them without a scratch. We make sure your furniture, household goods, equipment and office supplies are secure and protected in our storage warehouse. All storage is kept within secure, indoor facilities, so you can feel confident knowing that your household items or commercial goods are being well-protected. Your items will be safe from damage from any harsh weather conditions because our storage warehouse is climate-controlled.
Short-Term Storage Services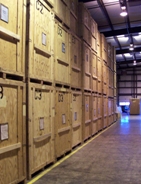 Short-term storage may be useful if you need to store some of your furniture when you're not finished setting up your new home, if you need to store some items to stage your home for real estate open houses and walkthroughs, or for office furniture or other equipment during a renovation. Set some of your household items or commercial goods aside in our climate-controlled, secure storage warehouse while you're redecorating your home or office. Don't let your valuables get ruined in the process of renovating your home – store them with Mountain Moving & Storage. We guarantee that we will keep them safe in our secure storage warehouse for however long you need.
Long-Term Storage Needs
Long-term storage is useful for storing household items during a temporary long-distance job assignment, or for storing items from estates or family homes until permanent placement is determined. You'll want to store your valuables in a secure storage warehouse during this time so you'll know that they are safe. Keeping them in our climate-controlled warehouse is your best bet, especially because some items are susceptible to damage from harsh weather conditions. You won't have to worry about any weather damage to your furniture, household goods and equipment when you store your belongings with us. Whatever your reason, we have the perfect long-term storage solutions for you!
Seattle and Tacoma Moving and Storage
If you're moving into a new home and need to set some items aside in storage, you'll want this to be a quick and easy fix so you can soon relax in your new home. Whether you're moving and you need to set some items aside during your relocation, or you're decluttering or redecorating your home, Mountain Moving & Storage can provide you with the storage solutions to suit your needs. We have provided moving and storage services to residents and businesses of Tacoma, WA for over 20 years. If you're moving long distance, locally or internationally, we have the experience and resources to make your move a success! Trust our movers to handle your household and commercial items with complete care when moving and storing them. We are highly-trained to store your furniture, pianos, and large specialty items safely and efficiently. For storage services in the Tacoma, Seattle area, call us today or fill out our online form for a free quote.