Quick Moving Tips and Moving Hacks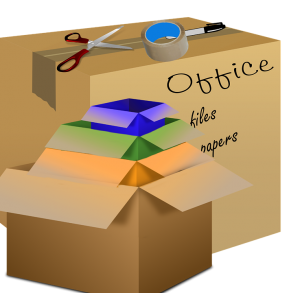 What frustrates you when moving? Is it packing the valuables or maybe finding a place for the little thing you forgot even existed. While you're focused on putting everything inside the box, don't forget to think outside the box. Get a little creative and utilizing things you already have. Simplifying your moving process can take you from being a moving zero to your own new hero. I know, hero is a big word to use but if you don't believe me, read on to the next few paragraphs and hopefully we can blow your mind and save you time with these moving tip and tricks.
1. Know Your Moving Boxes
If you look in the closet, you might notice you have different shoes. They are all shoes, but you know they each have a different purpose. The same goes for boxes. A lot of people don't realize that each box is made differently for a specific purpose. Here's a tip on how to best utilize your boxes:
The Small Box: These are normally about 1.5 to 3.5 cubic square feet and often called "the book box". This box is best utilized for smaller, yet heavier items such as canned goods. This box is also good for tightly packing fragile items. With the box being small in size, it stops the items from moving around and crashing into each other. The smaller the box, the heavier/tighter it can be packed without the risk of items breaking and falling through.
The Medium Box: These are normally about 4 to 5 cubic square feet and this box is best used for oddly shaped bulky items. These boxes can generally fit up to 3 awkwardly shaped items. A good example of what this box could contain is a computer tower, Keurig, a decent size pot or a lamp shade.
The Big Box: These are normally around 6+ cubic square feet. This box is the biggest and the flimsiest. If the big box is packed heavily, it's sure to break from either the bottom or the sides.These boxes are best used for light and fluffy items. Fill it with blankets, clothing, pillows and coats.
2. Color Coding Your Move
I'm sure we're all aware that most boxes seem to look alike. When moving, sometimes just whipping out the black sharpie and labeling your box isn't enough. Even if your moving boxes are labeled, sometimes trying to find one box in a sea of boxes can be quite the task. This moving tip however will help you narrow down the box a lot quicker. Label your boxes by using a color coding system. Tape all your boxes with a specific color tape depending on the room it belongs to and place pieces of the colored tape on the side of the boxes as well, so it can be easily identified. Now you no longer have to sift through the boxes for the kitchen, garage and living room find the bathroom supplies. You can simply go to the bathroom labeled/colored boxes and find the exact one you need in half the time.
3. Covering Kitchenware
This is where you can get a little creative with these simple storage tips. If you have glassware in your kitchen, here are a few tricks to help you out. First, by separating glass plates with paper plates you can pack more efficiently and safely. Second, if you have a utensil tray leave it as is and simply use saran wrap to contain and cover them. Third, instead of using newspaper for your glass cups, use smaller brown paper bags, sit the cup inside, and fold the top of the bag down inside the cup. This offers complete coverage to the glass without having to use, cut and tape a bunch of newspapers. These helpful tips are sure to save you time and broken kitchenware.
4. Move Your Clothes in Minutes
Organize and fold all your clothes prior to the move. When moving day arrives instead of taking the clothes out of the dresser simply remove the drawers while leaving all the clothes inside them. This way the drawer acts as the container for the clothes and it makes the dresser easier to move without all the extra weight added. Once the dresser is in its new location simply stick the drawers back in. Moving your closet can be just as easy by keeping all the clothes on the hanger. Once you arrive to your new residence, it'll take you less than 5 minutes to transfer the clothes into the new closet.
5. First Night Box
After completing your move, you're generally tired. On your first night at your new residence, the last thing you want to do is go for a shower just to find that all your towels are in boxes or decide you need to eat and not have plates or utensil. To keep this from happening to you, make a "first night box" and fill it with all the essentials you'll need as soon as you're moved in, so you'll be adeptly prepared until you've got everything unpacked and organized.