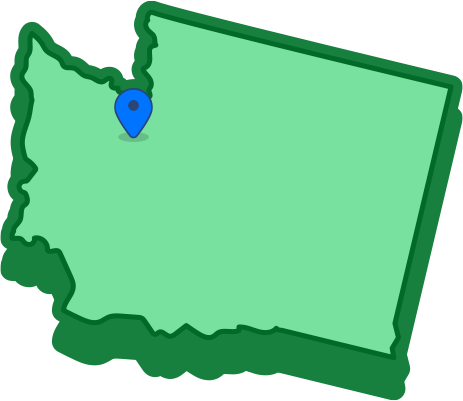 Moving Company Serving Puyallup, Washington
Are you looking to move to or from the Puyallup, WA area? Mountain Moving & Storage has years of experience in moving residents and businesses in the Puyallup area. Mountain Moving can help with your local or long-distance move. We are the trained Puyallup movers that have the expertise and equipment needed to help with your residential or commercial move. We offer a variety of specialty moving services that can accommodate to your moving requests. If you are looking for a professional moving company in Puyallup WA, then you need to consider hiring Mountain Moving & Storage. Here are just a few things Puyallup, Washington has to offer:
Open grassy parks.
Historical sites.
World renown fairs and festivals.
Friendly community.
Family-friendly events.
Unique antique shops and locations.
Moving to Puyallup, WA
10 miles Southeast of Tacoma you will find the city of Puyallup. Puyallup is located in Pierce County with an estimated population of 38,700 people. Since the first mayor of Puyallup, Ezra Meeker, established the town Puyallup has grown to be more than just an agricultural community. Puyallup is now a regional commercial center for Pierce County.
One of the highlighted features of Puyallup is Pioneer Park. Pioneer Park is located downtown and offers daily activities throughout the year. Pioneer Park is a grassy open area complete with playgrounds, memorials, pavilion areas and a splash park. Multiple city events are held in the park throughout the year including concerts and festivals. During the spring and summer months you can walk around the popular farmers market and enjoy all the fresh food and activities Puyallup has to offer.
Another popular location in Puyallup is Bradley Lake Park. Bradley Lake Park offers a more natural environment with grassy open areas, a large lake and multiple nature trails to explore. It has become a popular spot for local fishermen to come and spend the day fishing on the lake. Apart from fishing there are also playgrounds and baseball fields to keep kids happy and active.
Puyallup is well known for their festivals. The Washington State fair is held in Puyallup every year and is one the states largest events. The fair itself has been ranked number 10 in the country. The state fair brings a variety of activities that all ages can enjoy. Some highlights are the rides, food, live music and outdoor art stands.
Puyallup is known for their agricultural history. To this day, local land is still used to grow crops like daffodils and beer hops. Moving to Puyallup is a great choice if you enjoy a lively community that prides themselves on their history and reputation.
Professional Movers in Puyallup, WA
We know one of your top priorities when considering a move to or from Puyallup, WA, is finding a reliable mover who knows the area and can get the job done. We have the trained professionals who can make your move affordable and stress-free. Don't settle for anything less then the trusted Puyallup movers. Regardless of your moving requests we can accommodate to your schedule and moving needs. We also offer a place to store your belongings while you make your transition. Our storage services are perfect if you don't have enough space for your items at your new home. We will keep your belongings safe in our secure indoor storage facility regardless of the duration. To begin your move today to or from Puyallup, fill out our free online estimate form. We can help with your next move to Puyallup, Washington.