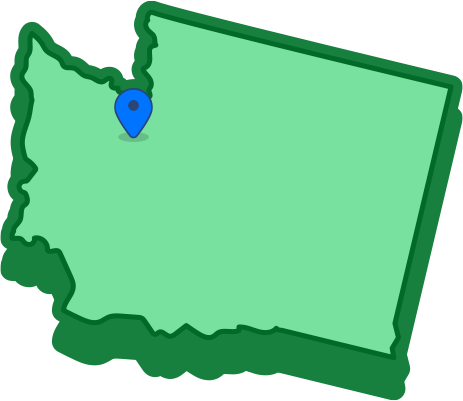 Spanaway Movers
With 32,575 residents the city of Spanaway Washington is filled with many sights for those new to the area. Mountain Moving and Storage are your premier Spanaway Movers and here are just a few ways that Mountain can help you:
Packing and Unpacking Services
Climate Controlled and 24/7 Monitored Warehousing.
Move Houses, Offices and Apartments
Specialty Move Experience (Pianos, Antiques and more)
Mountain Moving and Storage is a company you can rely on and here's why:
Family-Owned and Operated
A+ Rated by the BBB
Fully Licensed, US DOT 70719
Fully Insured, General Liability and Workman's Comp
Fill out our online form to request an estimate today. You will receive a free estimate with no strings attached. Call us at (800) 249-2414 if you have any questions regarding what we have to offer.

Mountain Moving is committed to providing you with the finest moving experience possible. We are the choice of those who are pushing for a better moving experience. Many who move don't have the right mover and end up getting ripped off, but with Mountain have no fear.
As a full-service moving company, we are not only capable of handling your moves, or anything else, we are committed to offering excellent customer service to help take the stress out of the moving process. With Mountain, move with ease with no hidden fees.

Our Spanaway Moving Services
When you move with Mountain, you get a quality moving experience. One without the hassles and the constant worry of a previous experience. You get quality, dedicated professional service and timely delivery of your items. Here are a few things that Mountain can give you as part of your move:
Packing and Unpacking Services: Our team of professional packers work hard to make your move the best experience possible. We pack your items into boxes neatly and without the hassle and then we unpack them at your destination.
Climate-Controlled and 24/7 Monitored Storage: Your items will be inventoried and managed by a team of highly skilled moving professionals who will monitor your items 24/7 in a climate-controlled warehouse.
Move Houses, Offices and Apartments: Our team of professionals can move your home, office. and apartment. We make sure your items are neatly packed and secured before transporting them to your new destination. Mountains moving team has experience with all sorts of moves and look forward to bringing you the best experience possible.
Specialty Move Experience: Moving isn't predictable. Each move goes differently each time. This uncertainty can cause issues for movers without experience who move items like gun safes or pianos which can be cumbersome and dangerous. These items require special attention and care that very few can provide. Mountain can help move all sorts of items with care and in a timely manner.
When you use Mountain Moving and Storage you'll get all of these great services tailored to your specific moving needs. With Mountain Moving and Storage you can experience the difference.
Learning More About Your New Home
There's nothing like the thrill of relocating to a new city. The hustle and bustle, the constant movement and the energy of the city, but sometimes it can be very exhausting. But for those who like to explore and see new things Spanaway is the place for you. Here a just a few locations for you to check out in Spanaway:
LeMay Museum: If you enjoy fast cars, good times and a little dip into the past then you should check out the LeMay Museum for all your car memories. They have hundreds of unique vintage vehicles including fire engines, trucks, buses, motorcycles, specialty cars, and much more.
Lakewold Gardens: Strolling amongst the shrubbery and beautiful plant life of Lakewold Gardens is great for all those who want a little bit of a quiet time. Open all year round feel free to bring your picnic basket and enjoy your time in the lush gardens.
City Goat Farm and Zoo: Do you ever want to pet goats and enjoy the company of camels? If you check out City Goat Farm and Zoo, they not only offer you the experience of brushing goats but petting them too. The Zoo also offers the experience of riding camels and zebras.
Spanaway WA offers these activities and more to all those who want to experience all the city has to offer. You can experience all this city has to offer and then some. Enjoy the sites, sounds and experiences when you move here.

Get Your Spanaway Moving Estimate Today
When you move with Mountain Moving and Storage you move with a team of highly skilled professional movers whose dedication to you is seen in how they make things happen. They will move your items with their fully licensed movers (US DOT 70719). This means you are fully protected from any damage and from any external factors like water damage.
One online form is all it takes to get your free in-home estimate today. Call us at (800) 249-2414 if you have any questions or want to learn more about what we have to offer.