Movers Kirkland, WA

Are you looking for a moving company in Kirkland, WA to help with your next move?
Mountain Moving & Storage is one of the best Kirkland moving companies ready to assist you with any moving services you may need. For the best local moving, long distance moving and office moving services, Mountain Moving & Storage are the movers in Kirkland, WA that you can trust!
Local Movers Kirkland, WA
Mountain Moving & Storage is a local moving company serving Kirkland and the surrounding Seattle-Tacoma area. As a family-owned business in Washington, we are dedicated to serving our community by providing families and businesses with the best local moving services.
Some of our local moving services in Kirkland include:
Decluttering Services: Our professionals will come to your home to help you recycle, donate or dispose of any unwanted items you don't wish to move to your new location.
Specialty Moving Services: We have the expertise and equipment for moving and large or bulky items that you may have. We move a variety of specialty items including pianos and gun safes.
Estate Move Out Services: If you need help organizing an estate after you experience a loss in the family, our professionals will come in and help you move, recycle or donate all furniture and other possessions.
Moving to Kirkland, WA
Kirkland is a suburb east of Seattle that is situated along the coast of Lake Washington. Although Kirkland is not typically considered a prominent city like Seattle, the Kirkland community is becoming one of the most attractive places to live in the Pacific Northwest.
Career Opportunities
The economy in Kirkland has been booming lately because tech giants such as Google and Microsoft have begun establishing branches in the area. Also, home to many other popular businesses, there are a variety of STEM job opportunities to pursue. There is plenty of great work opportunities available for people looking to escape the busy city atmosphere.
Recreational Activities
Not only does the city have great career opportunities, but the area itself is an overall great place to live. Being a waterfront city, residents have access to beautiful beaches that have the Seattle skyline in the distance. You also don't have to go far to experience other outdoor activities since there is plenty of local wilderness for residents to explore.
Some of our favorite Kirkland attractions:
Juanita Beach Park
9703 NE Juanita Dr.
Kirkland, WA 98034
Bridle Trails State Park
5300 116th Ave. NW.
Kirkland, WA 98033
Marina Park Pavilion
25 Lakeshore Plaza
Kirkland, WA 98033
Dining and Shopping
Even though Kirkland is in such close proximity to Downtown Seattle, you won't need to head into the city for great food and shopping. The city has a variety of unique restaurants that will accommodate to any craving you have. Shops also range from high-end boutiques to vintage locally owned stores.
Some of our favorite Kirkland Restaurants:
Café Juanita
9702 NE 120th Pl.
Kirkland, WA 98034
BeachHouse bar + grill
6023 Lake Washington Blvd. NE.
Kirkland, WA 98033
Bottle and Bull
105 Lake St.
Kirkland, WA 98033
Professional Kirkland Moving Company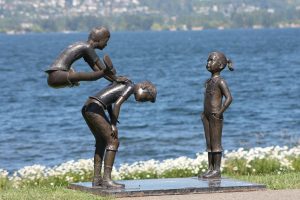 Mountain Moving & Storage is the trusted Kirkland moving company. Our professional movers are dedicated to completing your move in an efficient and stress-free manner. We strive for the best customer service by being transparent with our moving costs and by answering any questions you may have along the way.
For more information on our Kirkland moving services, contact Mountain Moving & Storage today at (800) 249-2414 to speak with one of friendly moving representatives. If you are ready to begin your next move to or from Kirkland, Washington today, fill out our online form and receive a free estimate for your next move.