Decluttering Services
Two surefire ways to make sure your move goes as smoothly as possible are to plan ahead and stay organized. However, having items that you don't need or want anymore makes this process more time-consuming. It may seem simple, but when moving day comes and you're not sure what's coming with you, what's staying behind, and what's happening to the items being left behind, it may prove more difficult to complete your move as quickly and efficiently as you had hoped. This is why it is so beneficial to have the professional movers at Mountain Moving & Storage help declutter your home. Please, let us do the heavy lifting.
Organization Leads to an Easier Move
With nearly 20 years of industry experience, Mountain Moving & Storage makes decluttering your home fast and easy. Instead of rushing to locate and organize all of your belongings at the last minute, let us do the hard work for you. If you have items that are no longer needed or wanted, we will take them off your hands and have them recycled, donated, or possibly even sold by making arrangements with a local consignment shop. We'll get it done, so you don't have to.
Donating a couch or dresser, or taking in a large old TV to be recycled is not as simple as donating clothing or recycling smaller items. But with the help of the declutter experts at Mountain Moving & Storage, you can be certain your unwanted items will be disposed of properly. Plus, with all of your unwanted items out of the way, you'll save time on packing, too. By choosing Mountain Moving & Storage to help with organization and decluttering, you'll ensure your move will be as fast and stress-free as possible.
Decluttering Services in Tacoma and Seattle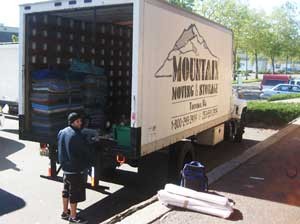 Whether you're downsizing or just want to get rid of some extra items that have accumulated over the years, Mountain Moving & Storage offers premier decluttering services for the Greater Tacoma, Seattle, and Lakewood areas. If you have questions about our decluttering services or want to set up a free in-home estimate, please feel free to give us a call, or fill out our online form for a free estimate.