Local Movers Tacoma, WA
Mountain Moving & Storage are the professional local movers of the Tacoma-Seattle area."
Are you planning a local move in the Tacoma-Seattle area?
Look no further than the local professional movers at Mountain Moving & Storage. Since 1996, Mountain Moving & Storage has been providing moving services for residents and businesses throughout the Tacoma-Seattle area. Mountain Moving & Storage specializes in a variety of moving services including local, out-of-state and international moves. We are prepared to help with your local home moving or business moving needs.
With years of local moving experience, the professionals at Mountain Moving & Storage are prepared to make your moving experience quick, affordable and stress-free. All our local Seattle and Tacoma movers are professionally trained in handling, transporting and unloading your possessions with the greatest care. We have the expertise, resources, moving trucks and equipment ready for your next local move.
Tacoma-Seattle Local Moving Services
As a full-service moving company, Mountain Moving & Storage can provide you with a variety of local moving services that can help you during your moving process:
We are partnered with Stevens Worldwide Van Lines and can provide you with local moving services that have the personal touch of a local moving company but have the resources of a larger van line. We are a family-owned and operated moving company dedicated to serving our community.
Mountain Moving and Storage can offer you the local moving help you need. Brush up on some tips, and tricks before you begin planning your next move. Our expert local movers are here to help you:
Local Seattle Movers
For the best local movers in Tacoma or Seattle, WA, the clear choice is Mountain Moving & Storage.
You can finally stop searching for a "moving company near me" because at Mountain Moving & Storage, we are dedicated to providing exceptional local moving services to our community. With accurate moving quotes and clear communication, we guarantee you will be satisfied with our customer service.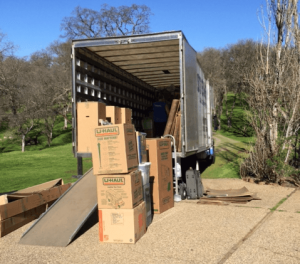 Our moving representatives take the extra time to completely understand your moving requirements and will create a local moving plan tailored to your needs and budget. We will provide you with a free and accurate local moving quote, so you can adjust your budget accordingly. We guarantee no hidden fees.
When hiring movers, you should expect the best. With Mountain Moving & Storage, you will get the best. For more information on our local moving services, contact us today at (800) 249-2414. To receive a free local moving quote today for your next move in the Seattle-Tacoma area, fill out our online form. A moving representative will contact you shortly once we receive it!