Warehouse Storage
"I've done business with these folks since 2008. Three moves and storage long term…they were efficient, reliable and everything packed was undamaged after a few years storage." – Kit B.
Mountain Moving & Storage certainly understands that it's tough deciding where to store your items during a moving process. That's why we offer storage solutions for all types of moves including local, long-distance, commercial, military and international!
If your new home or office isn't available, if you're selling your home and need space for an open house or you simply have too many things and need extra space, we've got you covered.
Our specialized storage services provide easy-to-use, flexible solutions when you're faced with a variety of reasons to reorganize your business or house.
Our 51,000 square-foot, climate-controlled warehouse storage is under surveillance 24/7. You can be rest assured that your possessions will be safe from extreme temperatures and curious critters.
Warehouse Storage Solutions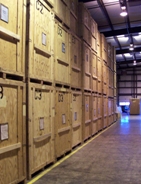 By creating a customized moving plan, you can be sure that we will take into consideration your schedule and budget restrictions while offering you the most affordable storage solutions.
We believe that flexibility is important. With that in mind, we are prepared to hold on to your belongings until you are ready.
Need to move in the next three months? Our short-term storage options are ideal for those looking to make a move in less than six months.
For the long run, we recommend taking advantage of our long-term storage options. Sometimes life can be uncertain, and we want you to be prepared for any eventuality. Let us help you keep your items safe and sound while you sort out your plan!
We'll store your belongings at our secure, convenient storage facility during the moving process and keep them secure and safe until we hear from you.
Storage solutions are available for both residential and commercial moves:
Residential Storage
Sometimes you can encounter a little stitch in your plans. That's what we're here for. If your new home isn't exactly ready, or you're in-between homes, our long term and short-term storage options are the ideal choice.
Commercial Storage
In addition to residential storage, we also offer commercial storage options. While your office is moving locations, or you're currently renovating your workspace, we're prepared to help.
Mountain Moving & Storage can store your commercial assets and equipment while the rest of our team helps you clean and get your office primed to move in.
We have special handling skills for all sorts of office equipment including computer tech., sensitive office documents and large, bulky furniture.
Our crew is specially trained to handle heavy machinery that we use to securely load your packed items safely in our warehouse.
Why Warehouse Storage?
There are a million reasons to keep your items safe and secure, and here are just a few reasons why you should:
Downsizing or expanding your office: Sometimes it makes sense to grow or remain small. In any event, changing your space means less or more room. Storage is really handy to have in case of an unexpected growth or reduction in square footage.
Moving abroad: Moving overseas is challenging enough on its own. Not having to worry about where your stuff is stored can definitely ease the tension in your mind. While you focus on the more important details.
Keep sentimental items safe: Warehouse storage can offer a unique climate-controlled environment that can protect against wet climate that may otherwise damage your fragile antiques, chinaware, silverware, photography and other valuable possessions.
Decluttering your home: By storing your items and giving yourself some space to think, you may be able to look at what you do need compared to what you don't.
Affordable Warehouse Storage Solutions
When you choose to store with Mountain Moving & Storage, you're choosing a family owned and operated company of over 20 years. We take pride in providing you with high-quality and affordable storage services.
For more information on our storage solutions, please call at (800) 249-2414 or fill out our free online quote form for more details.