Warehouse Storage
Quick Read
If you are an individual or business near Tacoma are in need of warehouse storage, #1 rated Mountain Moving & Storage is equipped with a well-trained team and tools specialized to keep your items safe. Our warehouse storage facility is conveniently located 20 minutes from downtown Tacoma, WA. We are committed to offering customers a top-quality warehouse storage solution designed specifically to handle their needs. We offer the following:
51,000 Sq. Ft. Warehouse

Short and Long-Term Storage

24/7 Surveillance

Background-Checked Crew

Complete Climate-Control
You can trust Mountain Moving for your warehouse storage needs because we are:
Experienced Since 1996

Family-Owned and Operated

A+ Rated by BBB

Fully-Licensed & Insured, WUTC CC57070
Reach out to us at (800) 249-2414, our staff is standing by to answer your questions. Or you can fill out this online form and a representative will message you back as soon as possible.
Mountain Moving is your answer for secure warehouse storage. No more need to look up "storage options near me". Our wide-range of services and dedication to providing a great service with professional customer care is what makes us the perfect fit for you.
We will be able to help you with your storage needs for long-distance and international moves. Mountain Moving & Storage is the answer for all of your warehouse storage needs.

Is Tacoma Warehouse Storage Right For You?
Are you uncertain if warehouse storage is the right choice for what you need? Warehouse storage is the perfect solution for a wide-range of needs, from residential storage solutions to commercial storage solutions to office document storage. In our experience since 1996, we have seen many reasons why people choose to store with us, but here are a few of the most common:
Residential Warehouse Storage: It's hard to guess what may happen during the moving process. A common problem that people run into is selling their house before they find their new home. When in this period of temporary downsizing, warehouse storage is the best solution to store your larger items while you find your new home.
Another reason for residential warehouse storage that we have seen a number of times is showing your home. Real estate experts all suggest setting up your home as "lived-in" when showing it, but not cluttered. People need to be able to see themselves living there, but they still need to be able to see the bones of the house. The best way for to get just the right amount of items in your home is to store what you have in secure warehouse storage.
Commercial Warehouse Storage: While moving locations, you may come under the trouble of figuring out where to put your heavy furniture and delicate tech. With Mountain Moving warehouse storage systems, your items will be there waiting for you in the exact condition you left them.
Office Records Management: Keeping physical records of historic documents is key for any business, but with rent being so expensive, can you really afford to store historic documents in your office in a way that is easy to manage? You don't have to. With Mountain, you can increase your storage space by utilizing our warehouse storage for records management.
These are just a few of the reasons why people have partnered with us to keep their belongings safe in our secure warehouse. Here at Mountain we are glad to help the entire Tacoma area with all of their storage needs with our tailorable services.

Services for Warehouse Storage in Tacoma
We are proud to have served the entire Tacoma area since our start in 1996. In that time, we have seen exactly what people are looking for out of their storage solutions. We have made it our goal to provide you with everything you need to make the storage process easy for you and to ensure security for your items.
To make this happen, we have:
51,000 square feet of storage space available

Both short and long-term storage options

24/7 surveillance by a background-checked crew
We are dedicated to giving you the best warehouse storage possible. Our wide-range of offerings is matched with our top-quality customer service. When you store with Mountain, you can rest assured that your belongings are in the right hands.
Get Your Warehouse Storage Estimate From Mountain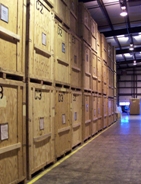 Mountain Moving & Storage has been trusted in the Tacoma area since our start in 1996. We are a family-owned and operated business with an A+ rating from the BBB. There's a reason why we're so highly rated by our past customers. We are dedicated to doing everything possible to provide you with secure, effective, and simple storage solutions.
If you have any questions or you want to learn more, you can reach us at (800) 249-2414. Get your free estimate for warehouse storage solutions today.