Last Minute Things to do Before Moving
Everyone knows that a moving day requires hours of planning and attention to detail to make sure nothing is overlooked. Unfortunately, life doesn't allow every move to have the same amount of time for preparation. If you are out of time and need to move in a matter of hours or days, fear not, we have made a list to help you through the expedited moving process. We are in the business of moving and storage and we know the essential details that are required for every move.
Stay Calm and Don't Panic
Moving day is never easy, but doing so while crunched for time can be particularly rough. Whether it's because of unforeseen circumstances or to start a job immediately, time-sensitive relocation requires fast acting and on-the-fly organization. If you're ever faced with such a scenario, follow these moving and packing tips to stay on track and under control.
Make a Last-Minute Moving Checklist
Although your impulse might be to dive right into hours of grunt work, setting aside a few minutes to prepare a schedule can end up saving you a lot of time. Think through everything that needs to get done, put it in chronological order and cross it off as you go. With this method of reference, you'll notice that staying on task is a lot easier.
Sort Items as You Go
As you are packing and moving your belongings around, make piles for different purposes – your car, the moving van lines, items to be discarded and so forth. Physically sorting as you go can prevent mistakes and save time toward the end of the packing session. Similar items go with each other, and make sure everyone who is packing is communicating with each other to ensure consistency. Label boxes with a permanent marker, and if you use black garbage bags to pack, use a silver permanent marker. Organization is key to a fast, efficient move, so try your best to stick to the rules while packing.
Get Help to Pack and Move
When you are in the middle of a last-minute move, it isn't a time to be proud. If it looks like it's going to be too difficult to handle in time, ask for assistance. You may have friends who owe you a favor; cash them in now. The internet is your friend as you can look for a same day moving company to help you pack and move in a short amount of time. You may pay a premium to receive same day or next day service, but it is the cost you likely have to pay.
Finding Same Day Movers Near Me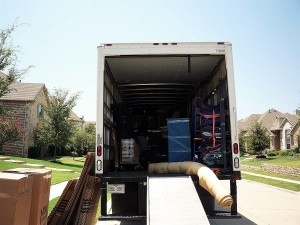 Although getting people you know to help pack and move will help, hiring professional movers will be well worth it if time is your biggest issue. Simply Google "same day movers near me" and see what moving and storage companies are in your area. With our extensive experience and professional equipment, we can make sure that everything is done as efficiently as possible. Just because you have to move soon doesn't mean you are willing to sacrifice quality. Hiring last-minute movers to help with packing, moving and storage can be a godsend as you are pressed for time. Stay calm and let the professionals handle the job. If you want to reserve a professional moving company outside of normal business hours, you can email, or leave a voicemail so they are made aware as soon as they begin their next business day.
Move in Shifts
If possible, having some of the family leave early and the planning for others to travel later on can simplify things a great deal. Going at different times can help reduce stress, maximize space and provide a backup plan if something is forgotten or if an unexpected circumstance arises. Designate one person to be more of a manager so you are less likely to forget something.
How to Pack for a Move in 3 Days
Although there is a lot to take care of on your end, making plans in advance of your arrival at your new destination can help you prevent wasted time when you get there. Consider what amenities you will need upon arrival. If you need your clothes dry-cleaned for your first day of work, call ahead. If you need a supermarket right away, call and see what their business hours are so you are not surprised. If you need to book a motel or hotel, you need to call as soon as you can to reserve a room.