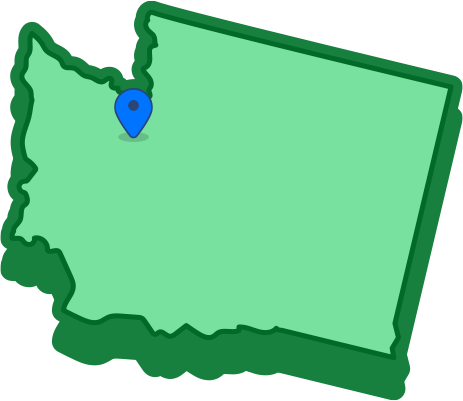 Moving Company Serving Olympia, Washington
Are you looking to move to or from Olympia, WA? When searching for Olympia moving companies near me you should want a full-service mover who has the experience of completing both residential and commercial moves throughout the Olympia area. Mountain Moving and Storage offers a variety of moving services that can completely fulfill your moving needs.
Mountain Moving and Storage is the trusted Olympia movers. We are prepared for any moving situation. Regardless of your circumstance or specific requirements, we guarantee a full-service professional move. We have the proper tools and equipment for moving any large or awkward shaped object from your home. Our movers know the Olympia area and how to properly navigate and transport your items in a secured and efficient manner. Don't let moving to Olympia cause you unneeded stress. Go with the reliable and professional movers at Mountain Moving and Storage.
Olympia, WA Moving and Storage
If you're preparing for a move to or from Olympia, you should consider the professionals at Mountain Moving and Storage. We have the resources available to help with every aspect of your move. We offer a wide range of services including specialty moves, military moves and even international moves. No matter the task we have you covered! Our moving staff is professionally trained and knows how to properly handle all your belongings. With our tools and resources, we have the ability to quickly transport all your possessions in a safe and timely manner.
We know the importance of customer service and the role it plays throughout our industry. That is why we stress the importance of leaving a customer with the utmost satisfaction. The moving coordinator that we assign to you for your Olympia move, will work with you during every step of the moving process. We customize your moving plan to perfectly fit your moving requirements. From the beginning of your move date, until the last package is unloaded, our workers will execute your move professionally and respectfully.
Sometimes you may not be able to move everything to your new home all at once. That is why we offer storage services to all residents and businesses. Our warehouse is perfect for a short or long-term storage solution for you. Our facilities are monitored 24/7, climate-controlled and kept to the highest standard of cleanliness. It is the perfect storage option for anyone looking for a solution to their temporary storage needs.

Contact Mountain Moving & Storage Today for Your Olympia Move
Mountain Moving and Storage are the reliable professional movers serving Olympia, WA. With our friendly moving crew and resources, we can ensure you a stress-free and pleasant moving experience to or from the Olympia area. To start your next move to or from Olympia, WA, fill out our online form to receive a free moving estimate! Remember, the next time you are looking for the best moving companies in Olympia, Washington, go with Mountain Moving & Storage.