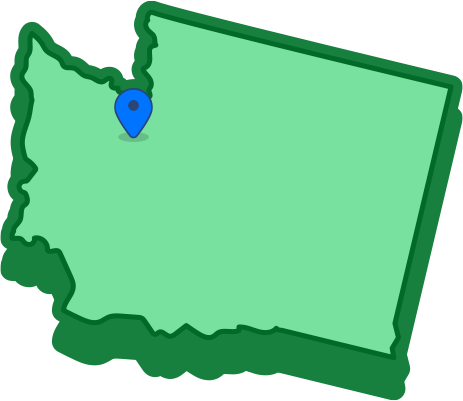 Moving to Olympia, WA
Olympia is the capital of Washington and a great place to move if you are looking for a city that has plenty to offer. With a great and historic downtown and surrounding suburbs, Olympia has affordable living for anyone looking to move to the Southern end of Puget Sound. It has become a prime location for individuals and families looking to begin a career and settle down in an affordable and eccentric city.
Olympia offers outstanding outdoor recreation, a vibrant cultural scene and of course, plenty of fantastic places to eat. With local hangouts and well-known festivals, you will never be bored living in this city. Just one of the many events held, Olympia's Arts Walk festival brings 30,000 people into the city alone each year. And that's just one of the many events that are held in the area each year. Olympia has everything there is to offer from outdoor recreation to inspiring art museums.
Things to Do in Olympia, WA
Olympia has become more than just the state's capital. If you love a variety of dining experiences, local national parks, museums and theaters, Olympia is the place for you. You can spend your day at the Olympia farmers market picking fresh organic produce or shop at some of the downtown Olympia stores. The shopping in Olympia, WA draws crowds in from all over the state. For those looking for a night out, you can experience multiple theaters in Olympia that put on various shows ranging from Broadway plays to concerts. Surrounding Capitol Lake, Olympia gives you the opportunity to indulge in plenty of waterfront restaurants that offer unique and delicious dining options.
Shopping in Olympia has always been an attraction for the tourists and residents that live in the city. You can spend the day downtown shopping at the variety of stores and boutiques. The Capital Mall itself has become a main attraction in the city.
For those with the desire to learn, the city also offers many locations that can provide you with a knowledgeable experience. With iconic locations like the WET Science Center and the Hands On Children's Museum, there are plenty of opportunities to explore and learn.
If you're looking to enjoy some outstanding sites you can visit plenty of national parks and locations for you to visit.
Percival Landing has become an iconic spot that offers you the chance to get a stunning view of the water, the capital buildings and downtown. If you are looking to get out of the city, you don't have to go too far to experience breathtaking views. Olympic National Park isn't too far and is home to the popular Mt. Olympus. Mount Rainier National Park is in the opposite direction east of the city. Both locations offer beautiful natural scenery. They are perfect places for adventure seekers, hikers and nature lovers.
Our Favorite Downtown Olympia Restaurants:
Basilico Ristorante
507 Capitol Way S.
Olympia, WA 98501-1206
5th Avenue Sandwich Shop
117 5th Ave SE.
Olympia, WA 98501-1121
Lemon Grass Restaurant
212 4th Ave W.
Olympia, WA 98501-1004
Our Favorite Downtown Olympia Stores:
Capital Mall
625 Black Lake Blvd SW.
Olympia, WA 98502-5066
Farmers Market
700 Capitol Way S.
Olympia, WA 98501-1208
Olympia Weekend Flea Market
210 Thurston Ave NE.
Olympia, WA 98501-1138
Our Favorite Olympia, WA Events:
Hands On Children's Museum
414 Jefferson St NE.
Olympia, WA 98501
Percival Landing Park
217 Thurston Ave NW
Olympia, WA 98501
Washington Center for the Performing Arts
512 Washington St SE.
Olympia, WA 98501
Where is the City of Olympia?
The residents of Washington are no stranger to the city of Olympia. Olympia is Washington's state capital city situated at the base of the Budd Inlet and is at the southern end of Puget Sound. It shares its border with two other popular destinations. The city of Lacy lies to the East and the city of Tumwater bordering the South. The downtown Olympia zip code is 98501. For residents living in Seattle, you can reach Olympia within an hour following down I-5 S. The next closest major city near Olympia is Portland. Residents can head straight down I-5 S and reach their destination in about 2 hours. If you are looking to escape the city for the day, Mount. Rainier National Park is about 1.5 hours east of the city. Olympic National Park is only an hour Northwest.
Other Must-See Destinations:
Olympic National Park
Mount Rainier National Park
Chihuly Garden and Glass
Mount St. Helens
Olympic National Forest
Space Needle
Moving to Olympia, WA is the right choice. The city has plenty offer and has become an iconic spot in the Evergreen State. Fill out our form today to begin your next move to Olympia, WA.